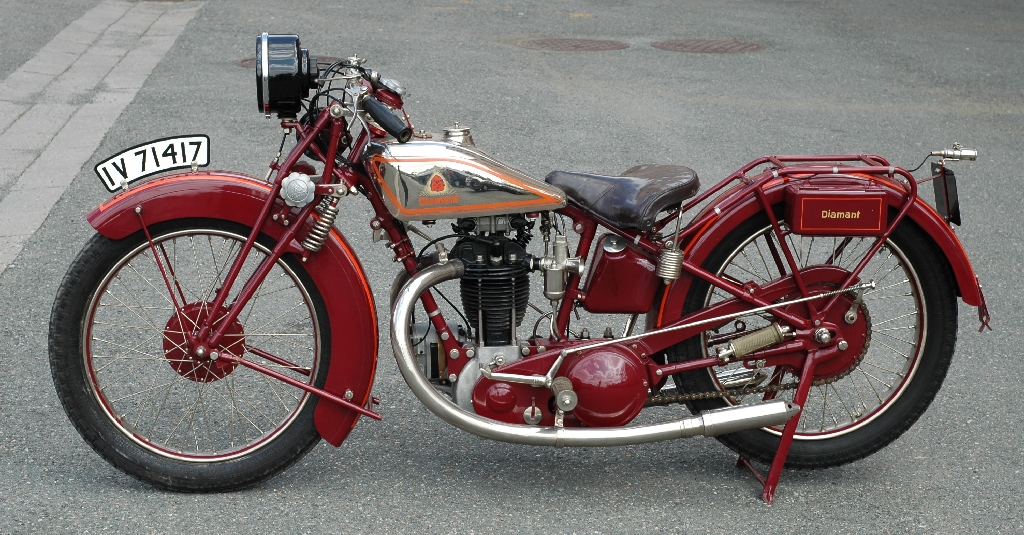 In 1885 the brothers Nevoigt founded a business for the production of steel quills and knitting machines. They choose "Diamant" (diamond) as their brand name, which ist still used on the most famous product range of the company: bicycles.  Today, it is the oldest surviving bike manufacturer in Germany.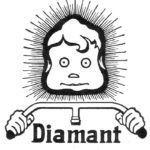 From 1903 to 1908 around 300 Diamant motorbycicles had been build. With motorcycles becoming very popular in the 1920s the company launchd new four-stroke models. A 350 and a 500cc ohv-model was successfully entered in various race events and sold rather well. More economical sidevalve versions were availiable for less ambitious riders. Diamant motorcycles stood out of the competitors for two reasons: One is the colourful paint scheme ranging from orange on black to two-tone blue and chromium finish. The other ist the trademark logo of a boy's face, still used today.
In 1928 the company was taken over by Opel who had their famous cadmium-plated "Motoclub" bikes manufactured in Saxony until 1930.
One year later Diamant offered 74cc and 98cc Sachs-engined motorbycicles. Being tax-exempt, these small machines becam hugely popular in Germany, with more than 90 manufacturers trying to secure a share in the market. It is estimated that Diamant sold more than 17.000 units until 1942.
The fully restored model F – Diamant on diplay belongs to the official collection of the city of Chemnitz.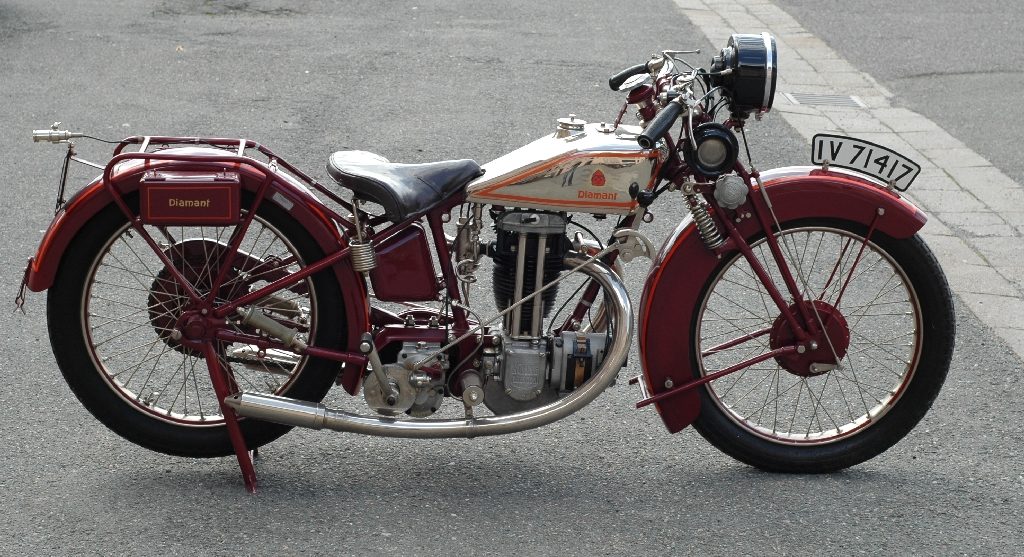 Specification
22 hp, 500 ccm,
ohv – four stroke
3-Gear hand shift
weight: 140 kg
max. speed: >120 km/h