Open Tuesday to Sunday 10 am to 5 pm
The museum is closed on Mondays.
Last admission 4:30 pm
Special opening hours are possible by arrangement.
We look forward to your visit!
Special opening hours on public holidays
THE MUSEUM IS OPEN ON THE FOLLOWING PUBLIC HOLIDAYS
FROM 10 AM TO 5 PM
Karfreitag 2. April 2021,
Ostermontag 5. April 2021,
Tag der Arbeit 1. Mai 2021,
Christi Himmelfahrt 13. Mai 2021,
Pfingstmontag 24. Mai 2021,
Fronleichnam 3. Juni 2021,
Tag der Deutschen Einheit 3. Oktober 2021,
Reformationstag 31. Oktober 2021,
Buß- und Bettag 17. November 2021,
1. Weihnachtstag 25. Dezember 2021,
2. Weihnachtstag 26. Dezember 2021
Children and young people up to 18 years of age as well as schoolchildren have free admission
Students, severely disabled (please provide proof)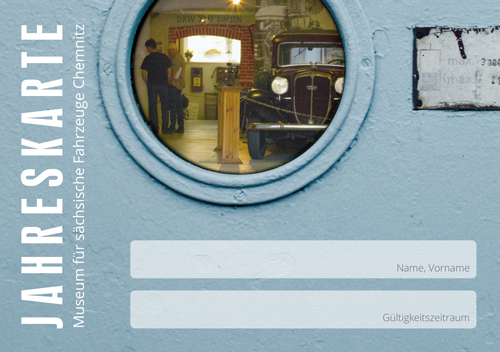 The annual ticket for our museum costs 25 euros and can be purchased in the museum shop. This way you won't miss any of the special exhibitions and events.

Vouchers can be purchased for admission with or without a guided tour. It is also possible to purchase a voucher for the museum shop. Our vouchers can be sent to you if you pay in advance, including shipping costs.
Museum für sächsische Fahrzeuge Chemnitz e.V.
Zwickauer Straße 77
09112 Chemnitz
phone: +49 (0) 371 260 11 96
fax: +49 (0) 371 666 1001

www.fahrzeugmuseum-chemnitz.de
Tram | Bus
Tram line 1, bus lines 23 and 31, each stop Marianne-Brandt-Straße
Car | Motorbike
Motorway A4, exit Chemnitz-Mitte or motorway A72, exit Chemnitz-Süd
Train
Chemnitz-Mitte train station (500 metres) or Chemnitz main station (2.5 km)